This is a mantra we hear far too often. Many B2B marketers expect their search marketing program to generate only high-quality leads that are immediately ready for sales interaction and closing. Question: Is this really realistic?
Business Buying Is A Process
Think about your own experience — both as a consumer and, if applicable, as a business buyer. How do you use search engines? Do you only conduct a search only when you're ready to choose a partner and purchase a product or service? Probably not.
In fact, market research shows that business buyers use search engines throughout their entire buying process, and we know that buyers rely on search heavily during their initial research phase.
Typical B2B Buying Process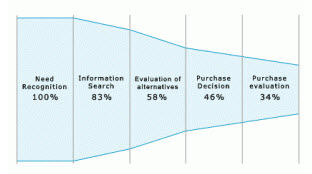 But, let's face it…. searchers engaged in general market research are not sales-ready-leads, are they?
Problem Or Opportunity?
Here's a suggestion. Instead of viewing this as a problem, B2B marketers should view this as an opportunity; and use the situation to create a competitive advantage.
How?
Utilize search marketing to reach all people conducting relevant searches
Establish your brand as a leader in the market place
Engage and educate prospects
Proactively move them through their research and buying process.
I believe that B2B marketers need to find and reach prospects early and often. Don't wait until they are ready to make a purchase. You will likely be too late!
At the point of purchase, a competitor has probably already engaged them in a "conversation" and established an online relationship.
Offer Engagement Choices
If the only call-to-action you present — in your ppc ads, on your landing pages, and across your website — is some version of "talk to a sales person" (examples include: Contact Us, Request a Quote, etc.) your lead volume and ROI are probably quite low.
Tip: I urge B2B marketers to offer multiple action options; and to provide information that appeals to prospects across every phase of the buying process.
The following assets are examples of what typically appeals to prospects at various buying phases:
Research phase
Market overview and analysis
Research studies
Product knowledge and comparison phase
Product demo
Case studies
Product comparison charts
Vendor selection and purchase phase
Request a quote
View pricing options and contract terms
Measuring Results
The real challenge is how to estimate true marketing value and measure your search marketing results.
Tip: If you're only assigning a value to sales-ready-leads, your ROI probably doesn't look very good! Instead, I recommend that B2B marketers to assign an estimated value to all the steps in a typical buying process.
Ask yourself, what is it worth to have a prospect:
View your ad
Click-through to your website
Engage with the information on your site
View product/service information
Download an asset
Request contact
Think Like Your Buyer
Don't be short-sighted and unrealistic about your search marketing goals. Think like a searcher and a prospective buyer. Embrace the way your prospects actually use search engines.
There is a real opportunity for B2B marketers to establish a competitive advantage by (1) establishing your brand as a trusted partner, and (2) by interacting early and often with prospects as they move through their buying process.
Then, when prospects are truly ready to become a sales-ready-lead… YOU will be the obvious choice.
Don't Miss a Beat!
Receive current information, expert advice, helpful tips, and more…
* Your privacy is important to us.