There are many questions that should be asked during an RFP or interview process for hiring a Search Marketing Agency. After executing countless client on-board processes, I have found that ensuring a good fit between a client and an agency comes down to asking the right questions. I recommend that you ask these 4 critical questions before you select a digital/search partner…
Ask the right questions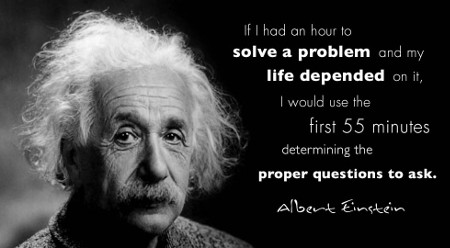 How do you approach strategy and planning?
I believe any strategy and planning period should entail a clear roadmap of progress with milestones. Will there be a ramp period? When will optimizations/testing begin? It is important to ensure you are aligned on expectations around media planning, SEO implementation, the approach to testing, expected results, etc. The goal is to hire experts that meet the needs of your company; they should lead based on their experience and deep level of knowledge – not just take instruction and follow directions. You should have a clear picture of how the agency will ensure their team has the appropriate knowledge about your business and market landscape to drive strategy. Ask to see examples of digital marketing strategies and marketing plans/calendars.
Who will be working on the project(s)?
Each agency has a slightly different model for how their teams operate to deliver the work of any given project. Generally there is a "point person" or Account Director assigned to each client relationship but it's important to know who else will be impacting your program. Who will be managing the work? Who will be executing the program components? What are their certifications? Will you have direct access to those individuals? Bottom line, you need to feel comfortable and confident in the team of people you work with to execute the project successfully.  I recommend that you ask to see a team roster with defined roles and responsibilities and personal bios.
What is the agency's experience with your vertical, type of business, goals?
Every business is different but generally speaking you can place your company in a "bucket" to understand the agency's level of experience with businesses similar to yours. Is your company B2C or B2B? Do you have an ecommerce model or lead generation? Do you have a short sales cycle or is it long and complex? Are you in a technology, education, medical/health, retail (the list goes on and on) vertical? These are easy questions for you to answer but it is important to know if the agency you are interviewing has experience with your type of business. The strategy and approach will differ greatly between a B2C ecommerce retail company verses a B2B complex sale lead gen tech company. You will want to feel confident the agency has the right experience to meet your goals – a proven track record of success with businesses like yours is hugely important. Does the prospective agency have any case studies to share that are well aligned with your industry and/or your specific digital marketing goals?
How do you measure success?
It is essential to have a common understanding of what success looks like – without this there can be confusion and potential missed opportunity. Goals should be very clear and mutually agreed upon. This will require a lot of input from you as the client. Before interviewing an agency or creating an RFP, you should know the single most important measurement for success. The agency should then help you define reasonable expectations and set specific goals. Once KPIs are clear, you should agree on how progress/results are going to be reported (weekly, monthly, QBR, annual review, etc.) I feel that results against goals should be discussed often and shared with all stakeholders in the company. This ensures complete transparency toward the objective and plenty of opportunity for course correction based on observed results.  I would ask to see examples of results reports and performance dashboards.
Find a true partner
Hiring a Digital/Search Engine Marketing Agency is a big decision and it's essential to "get it right" ensuring no time or resources are wasted. To achieve the greatest success, you should be looking for a partner – not just a vendor; an agency that gets your business needs and one that you feel comfortable can meet your goals. Asking the right questions will help inform your decision and give you confidence that you made the right choice.
Don't Miss a Beat!
Receive current information, expert advice, helpful tips, and more…
* Your privacy is important to us.