The use of PPC (Pay-Per-Click) Management Tools has been a "hot topic" at SmartSearch recently. We've been re-evaluating our campaign tools and re-examining our requirements. We decided to break down our needs by specific PPC function and investigate what other agencies are doing. Here is what we learned…
Requirements gathering is actually a "tricky task" because needs vary greatly based on:
Size of client and amount of media being managed
# of digital ad channels
Reporting requirements
Need for integration with client's CRM system
PPC management tools are not free.  One can make the argument that the cost is more than offset by improved ROI… but, for a small- to medium-sized agency this is not a "no brainer".  The value of using a PPC management tool needs to be carefully analyzed.  Agencies need to test these tools and conduct a cost/benefit analysis.
While we were going through this debate, I decided to see if I could find out what other agencies are doing.
Here is snapshot from a recent  Report from Third Door Media / Digital Marketing Depot.
Just over 30% of agencies are using a 3rd party PPC management tool (Marin, Kenshoo, Acquisio, DoubleClick Search, etc.)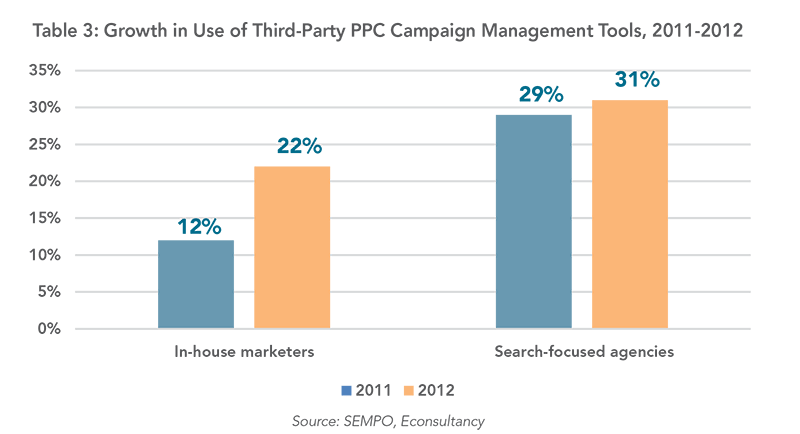 The remainder (nearly 70% of agencies) are using either: search engine provided tools, excel, proprietary tools, or an in-house solution.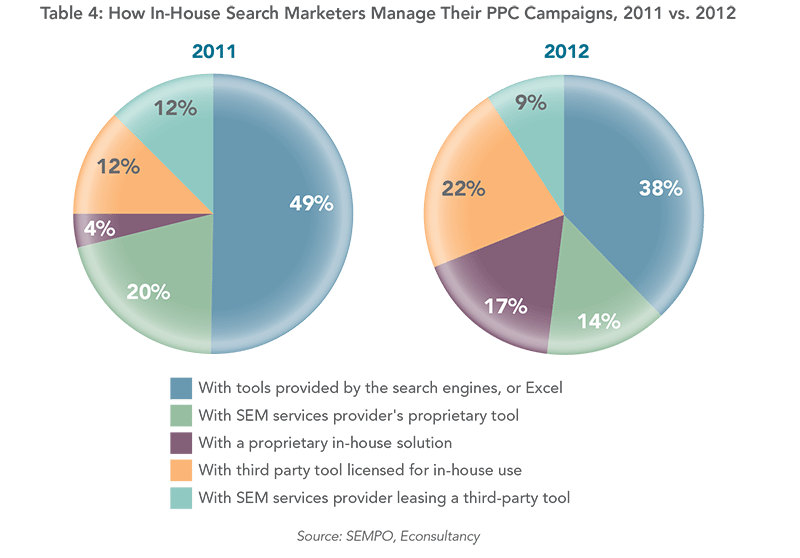 While the percentage of agencies using a tool is less than I suspected, the percentage is definitely growing (from 22% in 2013 to 31% in 2013).
At SmartSearch, our approach has been to explore requirements in these specific areas:
Campaign set-up and management
Bid management
Data consolidation across multiple ad channels
Results reporting
Lead tracking and CRM integration
We quickly realized that our biggest needs are in the areas of:  data consolidation and reporting… not campaign/bid management.
(NOTE:  We serve many B2B clients, so our requirements are probably very different than an agency with retail/B2C clients.)
Based on this initial analysis we plan to explore business intelligence and reporting tools like Tableau, NinjaCat and SpotFire.  Perhaps these tools will add more value than traditional PPC management platforms.
Stay tuned…
Don't Miss a Beat!
Receive current information, expert advice, helpful tips, and more…
* Your privacy is important to us.