Are you pinning? Pinterest launched as a place to share and post dream destinations, fabulous clothing, tasty recipes and wedding ideas, but it is now transitioning into a place for businesses to market themselves. In fact, Pinterest just announced new 'business accounts'. What does this mean for your company? Well, it's probably time to start considering incorporating Pinterest for your business into your social media marketing strategy. It is one of the more powerful platforms for driving traffic to your website.
Before you start pinning away, you need to evaluate if it makes sense for your business to be on Pinterest. Many companies in travel, retail, food and creative industries definitely should be on Pinterest, but what if you're a plumber or SEO company? Not all businesses belong on Pinterest and you shouldn't be on there just to be on there. You need to factor in whether or not people care to see the content you would be sharing. Develop a content strategy for your pins and decide if you have enough images to have an active, dynamic presence. A SEO company, such as SmartSearch, may create infographics, SEO tips and link stock images to blogs hosted on the website. Pinterest can work for your business; you just need to have a plan of attack prior to signing up for an account.
Here are 7 quick tips for using Pinterest for Business:
Link all photos. Anytime you add a pin, make sure you go in to the edit section and add a URL link as it corresponds to your website or the source of the content. Anytime you post a blog or article on your website, associate a picture with it and pin it to your boards.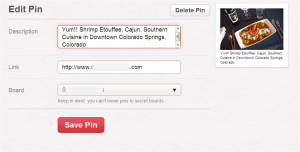 Add buttons and widgets to your website. Pinterest offers the capability to add social buttons to your site. Add a button on your home page for people to follow you on Pinterest but also add a social sharing 'pin it' button to the pieces of content throughout your website, whether it's a photo album, blog, eBook, news feature or video.
Follow other users. In order to build your followers, start following other businesses and users. If you're a local business, search your city to see what users are in your area. Also search to see what accounts, pins and boards are related to your industry. Are you a B2B company? Follow your target customers on Pinterest and all social media outlets.
Use keywords in your descriptions. As there is a search function within Pinterest, it's important to optimize your pins for search. Write out a full description of the image but also include keywords related to your company, the topics surrounding your content and industry.
Pin videos in addition to photos. Do you have a video content strategy? If you're utilizing video and sharing them on YouTube or Vimeo, also pin your videos to your board. While Pinterest is mostly dominated by photos, videos can have a strong impact on your online presence. It's also another source of content to share and be shared.
Engage – like, comment and repin other users' content. It is a 'social' network so take some time to like, repin and even leave comments on the pins from other accounts. Utilize the search feature to see what other companies, similar to yours, are sharing.
Follow Pinterest Etiquette. There are certain do's and don'ts to pay attention to when pinning. Pinterest does offer a 'code of conduct' in order to keep Pinterest fun, engaging and not loaded with spam. Pinterest is about the users and many people get turned off when advertising and spam interfere with their experience.
Happy Pinning!
Contact SmartSearch Marketing today for assistance with using Pinterest for your business and overall social media strategy!
Don't Miss a Beat!
Receive current information, expert advice, helpful tips, and more…
* Your privacy is important to us.