Struggling to understand the ABM ecosystem?  You're not alone!  With a plethora of ever-changing ABM vendors and platforms it's difficult to understand how all the pieces fit together.  Forrester published a 2018 New Wave Report™ that compares 14 ABM platforms.  In this post I summarize key insights and compare a few of the most popular solutions.

ABM is a Young Industry
Account Based Marketing (ABM) is a relatively young industry with a long way to go to maturity.  Many marketers are still exploring, experimenting and testing ABM – both as a strategy and as an enabling technology.
One indication of this is the large number of new entrants into the ABM space (from adjacent industries) and market consolidation via mergers and acquisitions.
Define Your Strategy Before Selecting an ABM Platform
Forrester stresses the importance of defining your ABM strategy first, before selecting a vendor/platform. This is especially true for B2B marketers who are new to Account Based Marketing.
For example, it's important to understand your needs and priorities in terms of these specific ABM program components:
Identification of target accounts and discovery of individual contacts
Learning more about contacts via third-party data
Personalization of interactions and communication
Implementation of ABM-oriented ad campaigns
Measurement, including Multi-Touch-Attribution (MTA)
Clearly understanding your prioritized requirements will help you evaluate and select an appropriate platform.
Market Comparison of 14 ABM Vendors
I especially appreciated Forrester's comparison chart which maps 14 ABM solutions in terms of current offering, platform strategy and market presence.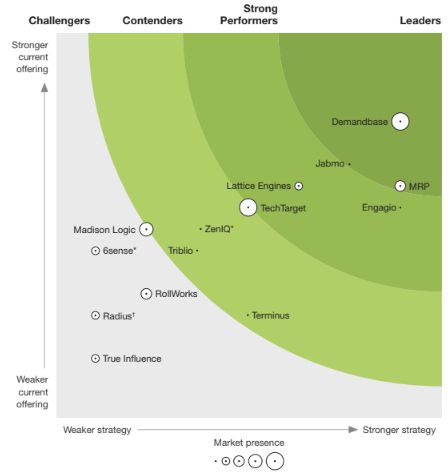 Features and Functionality Comparison
This chart summarizes the strengths and weaknesses of each platform based on various elements of an ABM solution: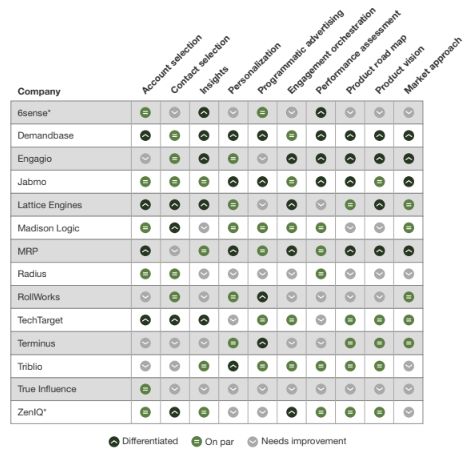 Sampling of ABM Platform Strengths
Finally, here is a summary of relative strengths for a few popular platforms:
DEMANDBASE.  If you need (and are ready for) all of the above-mentioned ABM components, then Demandbase is a great choice, offering the most robust and comprehensive solution.  MRP and Jabmo also offer strong, comprehensive solutions.
ENGAGIO.  If you already have a solid martech stack with strong capabilities in engagement channels such as email, advertising and social — Engagio can be a great solution to coordinate marketing and sales touch-points and improve sales reps' early engagement with prospects.
LATTICE.  This platform receives high marks for account selection and contact discovery as well as programmatic sales/marketing engagement utilizing Lattice's Artificial Intelligence (AI) capabilities.  An AI approach offers real advantages over a rules-based system but does require a large volume of data to work well.
TECHTARGET.  This vendor's strength is its large network of B2B technology websites.  If your product/solution aligns well with TechTarget's publishing network, you'll benefit from this platform's granular insights into technology buyers and your ABM targets.
TERMINUS.  Terminus offers a self-serve, programmatic advertising solution with operational support, and is a good solution for marketers primarily focused on ABM advertising.
Note:  In addition to these 5 popular platforms, the Forrester Report also provided a detailed review and analysis of: ZenIQ, Madison Logic, MRP, Jabmo, Triblio, RollWorks, 6sense, Radius, and True Influence.
If you are a Forrester client, you can access the New Wave ABM Platforms Report™ on their website.
Alternatively, the full report is available via the Demandbase website.
Don't Miss a Beat!
Receive current information, expert advice, helpful tips, and more…
* Your privacy is important to us.