Account-Based Marketing (ABM) has become a large focus for B2B organizations.  The concept of casting a smaller net and focusing on key accounts and prospects is a massive departure from some traditional marketing strategies.  Marketers are now collaborating with their Sales counterparts (gasp!) to identify specific companies and individual stakeholders within those organizations they want to target, then creating customized strategies to engage those prospects. So how can an organization leverage ABM to improve their marketing and sales efforts? While the possibilities are pretty much endless, here are a few suggestions for B2B marketers who are new to AMB campaigns.
Start with a List
ABM all starts by creating a list of companies and contacts that are considered key to business growth. The list can contain organizations and people you've had no contact with but fit your ideal customer profile (defined by industry, company size, number of employees, job function/title, etc.), prospects or leads that fall into your ideal customer profile, and current customers.  Once a target account list has been established, it should be further segmented to enable appropriate marketing initiatives and campaigns that are aligned with those key accounts.  You can learn more about ABM list segmentation (and get other tips) in my recent article about ABM on MarTech Today.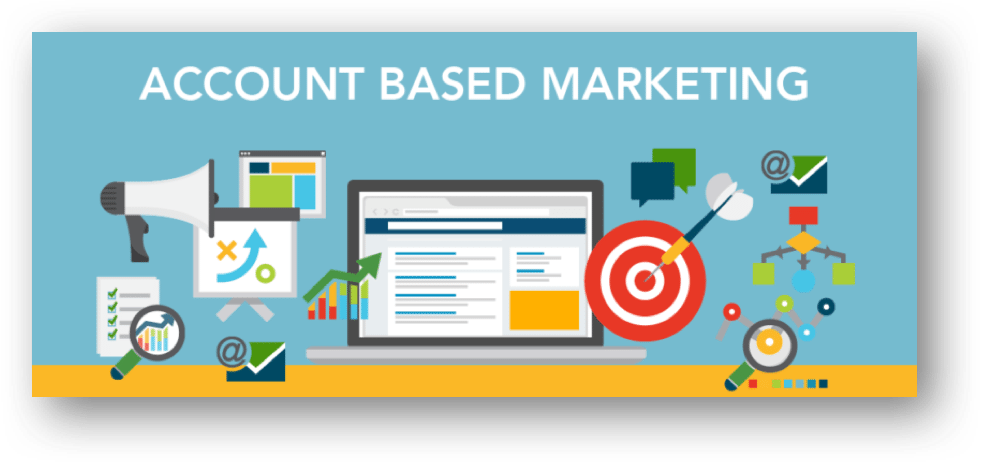 Prospecting and Lead Acquisition
ABM can be leveraged to build brand awareness and drive leads from target companies. For this approach, you may consider your segmented lists that contain accounts your company has zero or limited contact with and define strategies to develop awareness of your products, services or solutions.
Targeted advertising campaigns can generate awareness about your company and interest from key accounts.  Many tools and ad platforms have the ability to match and serve ads based on criteria included in your ABM list segmentation such as company name, contact names, industry, job function or title, etc.  If you have email addresses in your lists, an email retargeting campaign can be added to your advertising mix to get your ads and message in front of the right people to solicit engagement with your brand in exchange for a downloadable asset such as an ebook or whitepaper for example.  Combined with outbound efforts, the ads can also provide credibility and support to your Sales team as they attempt to start a dialog with defined contacts they are "cold calling" or with whom they are in the early follow up stages.
Sales Enablement
B2B Marketers can also provide support to sales efforts with ABM campaigns designed to help move prospects through the sales cycle or support existing customer growth.  For this approach, you should consider your ABM lists that contain key prospects and customers with whom sales reps are actively communicating.  In this case, two separate strategies can be designed; 1) to target prospects that aren't yet customers, and 2) to target current customers with potential to grow, renew or upsell.  Targeted advertising and outbound campaigns (including email, phone calls, webinar solicitations, etc.) can then be established with specific messaging that supports and reiterates value propositions that ensure a consistent message is being delivered with several touches across various channels.
Customer Engagement and Retention
ABM can also be used to support customer engagement and retention.  For this you would leverage a list of existing customers that are key to the continued profitability and success of your business.  These are customers you aren't necessarily focused on growing but rather their existence on your customer roaster is important to business operations. With this segment, outbound and inbound campaigns would be developed with a goal of maintaining brand awareness, promoting news and events, emphasizing advances in products or services, and showcasing customer support initiatives.  The proactive communication to existing customers demonstrates ongoing credibility, thought leadership and innovation and safeguards against complacency that may at some point cause the customer to reevaluate the relationship.
Account-Based Marketing (ABM) Works
Regardless of the approach and strategy, ABM as a practice has proven very successful for many B2B organizations.  Continued growth in adaptation is expected so I encourage B2B Marketers to take the opportunity to dip their toes in the water and give ABM a shot.  Whether using it to make contact with prospects you hope to convert into customers, or as a tool to help your sales team be more effective, or even for nurturing existing customer relationships, the potential impact on your business will be extremely positive.
Don't Miss a Beat!
Receive current information, expert advice, helpful tips, and more…
* Your privacy is important to us.