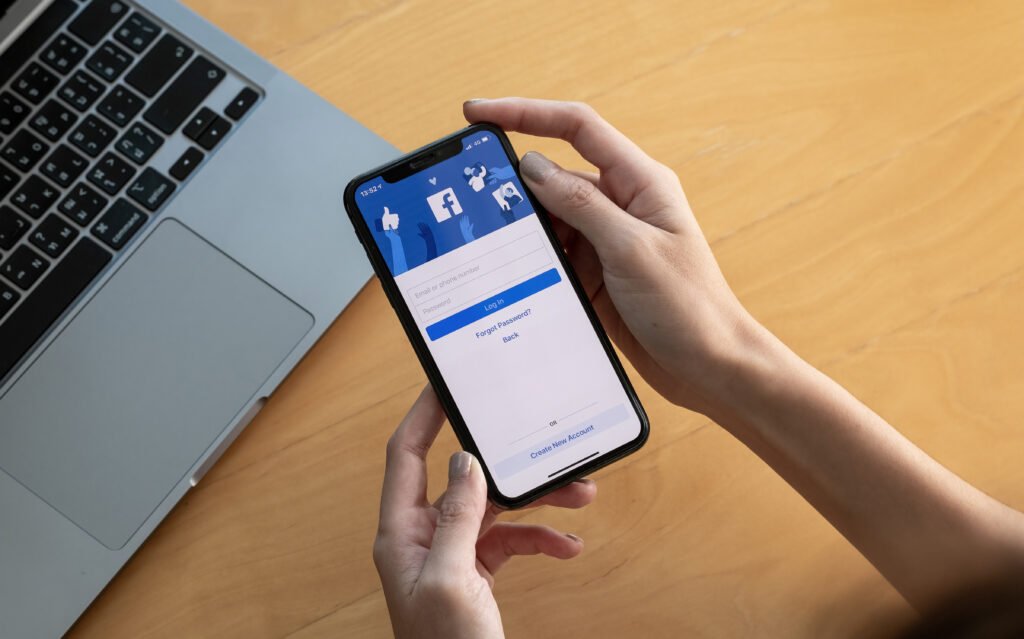 Facebook advertising is beloved for reaching consumers and has expanded tools and education to fuel small business growth. But is it right for B2B enterprises? When leveraged strategically, Facebook and its parent Meta undoubtedly has a place within your advertising efforts.
Here are four reasons to consider Facebook advertising for your next B2B digital advertising program:
ONE: To put it simply, it's unlikely your target audience isn't on Facebook.
With 2.93 billion monthly active users, marketers must at least consider Facebook as one component of any omnichannel strategy. Demographics will likely play in your favor, with 23.7% of users being aged 25–34 and 18.1% of users aged 35–44, Facebook demographics certainly include B2B researchers and decision-makers.
That being said, it's also worth checking to see if competitors are advertising on Facebook using the Ads Library (and take a peek at their messaging too). Even if you're not advertising on Facebook, it's likely your competitors are.
TWO: Your Facebook targeted audience can easily align with  your Ideal Customer Profile (ICP)
With expansive targeting options within Meta Business Manager, you can dial in on precise job titles layered with specific industries, interests, licenses, educational backgrounds, and more. When building an audience, a gauge within the Ads Manager will say exactly how broad or narrow the audience is and exactly how many people the campaign is expected to reach, with anticipated results before ads are even launched.
Furthermore, Meta unveiled B2B-specific targeting options to directly reach decision-makers in 2022, perfect for B2B-focused ICPs. "IT decision-makers," "Business decision-maker titles and interests," "Business decision-maker titles and interests" and "New active business" can now be found within the Ads Manager. If you've previously dragged your feet to add Facebook advertising to a B2B strategy, this addition to targeting options should be enough to make you think twice.
THREE: Advertising creative options are basically unlimited.
The Facebook feed is only one placement within the Meta Ads Manager. Within a single campaign, ads can also be placed within Instagram, Messenger, and the Meta Audience Network too. Depending on the target audience and messaging, placements can be expanded to further increase touchpoints.
With Meta Ads Manager, you are also not limited to static image ads. Highly visual carousels or MP4s can help your brand stand out in the scroll. Don't forget videos, Stories, Reels, search, in-article, and more. Multiple ad types and creatives can be tested within one campaign to easily see what messaging and ad type most resonates with audiences.
FOUR: Still unsure? The Meta Pixel can ensure that you're closely tracking results and can validate the ROI of Facebook advertising efforts.
Steps beyond UTM tracking, the Meta Pixel is also used for retargeting sites and specific page visitors and optimizes bidding towards those more likely to take action and convert. This robust piece of code allows marketers to see each step of their target's journey and verify Facebook advertising efforts are moving the needle.
Ad objectives also allow marketers to align Facebook ads with every part of the funnel. For example, the traffic objective can specifically contribute to top or middle-of-funnel efforts, while the lead generation ad objective can drive conversions toward the bottom of the funnel. The Meta Pixel is there to optimize and validate these strategies.
Ready to test Facebook and not sure where to start? Please contact us to get started today — we're here to collaborate!
Don't Miss a Beat!
Receive current information, expert advice, helpful tips, and more…
* Your privacy is important to us.