Background:
Our client, an in-home healthcare service provider for former government workers, struggled to reach their audience via digital channels. Under previous management, they had found paid advertising to not be cost effective.
Challenge:
In evaluating their program, we discovered the following:
Despite conventional thinking that their target audience (older users) are more apt to be on a computer than a mobile device, we discovered strong search activity on mobile devices from an older audience looking for in-home healthcare.
Mobile clicks accounted for more than half of their paid search traffic, however their mobile conversion rate was only 10% of the desktop conversion rate.
Solution:
Avid Demand's approach was to (1) refine the keyword set, (2) utilize audience bid modifiers, and (3) optimize the mobile landing page experience.
We evaluated mobile search queries. We added additional target keywords as well as specific negative keywords to fine tune how ads were served, especially for broad search phrases.
We applied bid modifiers by demographic to reduce the CPC associated with younger searchers and increase our bid for the desired, older audience. This approach enabled us to reach the right audience, on the right platform, at the optimal price.
While mobile traffic was not converting well, we did not want to remove it from the auction altogether due to the large volume of searches coming from mobile. Instead, we put ourselves in the shoes of a mobile user and improved the overall design of our landing page, to make it easier to understand and interact with on a mobile device.
Results:
Mobile performance improved exponentially. We saw an immediate improvement in conversion rate, lead volume increased, and cost per lead fell.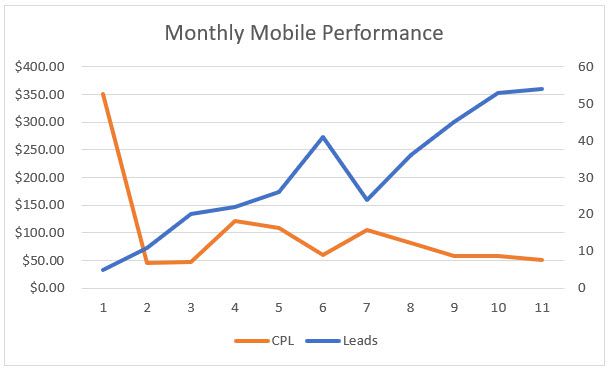 Avid Demand continues to optimize the campaign and the landing page experience. This has resulted in continual improvements over an eleven-month period, allowing us to maximize the client's ROI.
Summary:
Discovering the untapped potential from mobile devices, we set a strategy to target our client's audience and to optimize the user experience. This solution resulted in more leads at a much more affordable cost, with continual improvements over time.
Don't Miss a Beat!
Receive current information, expert advice, helpful tips, and more…
* Your privacy is important to us.