In May of 2016 Google updated the SERP's (Search Engine Results Pages). Since 2014 Google has been using a pixel-based Title Tag limit – instead of character length. The most recent update has expanded the Title and Description tags from 512 pixels to 600 pixels. In my opinion this is a big win for SEO's.  Here's why…
This has increased the amount of text (and target keywords) you can fit into your Title Tag, which is a fantastic new opportunity for SEO Experts. We are also seeing some instances where Meta Description Tags have 3 lines of text (instead of 2) and as much as 275 characters. That being said, most Meta Descriptions still fall within the 155-160 character limit.
This update has caused a bit of confusion for many digital marketers. SmartSearch Marketing created a free tool to help people VISUALIZE how their URL, Page Title & Description will now be displayed in Google organic results, based on these new pixel limits.
Please check-out the new SmartSearch Marketing Google Title Tag SERP Preview Tool.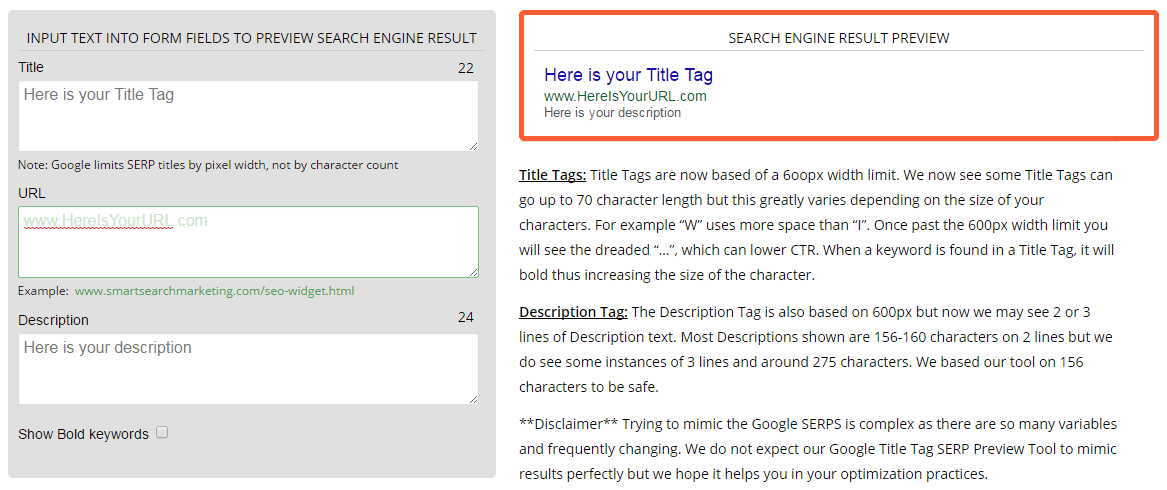 We welcome your comments, suggestions and feedback.  Please reach out to me directly at Jason@SmartSearchMarketing.com.  Thank you.
If you find this tool useful, please pass along and share with your colleagues.
Don't Miss a Beat!
Receive current information, expert advice, helpful tips, and more…
* Your privacy is important to us.