Q1 of 2015 is coming to an end (how did that happen??) so as we wrap up this quarter I thought it would be a good time to review how seasonality affects organic website traffic. Clients often ask why traffic is up or down and although there are many varying factors, seasonality plays a large part in the spikes and dips of organic traffic. In this post I explore the seasonality of B2B website traffic and provide tips on how to manage these seasonal impacts.
Typical B2B Website Organic Traffic Trends
Most B2B websites see a spike in organic website traffic at the beginning of a new year. By the first week of January traffic numbers begin to increase significantly compared to Nov. and Dec. Most B2B websites experience less traffic starting in November. As we get into late December it's usually down even more than November, this is not always the case, but most B2B websites see a dramatic decrease in website traffic in November and December. I always look forward to January when organic traffic numbers stable out and usually increase significantly.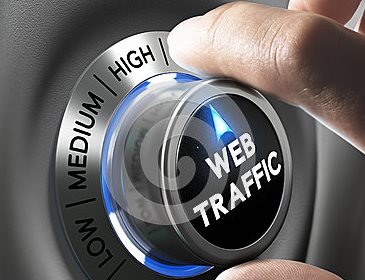 Recommended Data Analysis
As most digital marketers know, it's important to look at year-over-year (YoY) data as well as month-over-month (MoM). Since most people perform searches for B2B related terms during the work-week, there are a lot of considerations that cause the fluctuation in traffic results which in turn affect organic leads and conversions.
Monthly Factors that Impact Organic Traffic
It's not just the winter Holidays that cause the dip in organic traffic, usually B2B sites experience this throughout the year. Here are other factors to remember when looking at traffic trends MoM and why it's important to look at data YoY.
Jan – January may be slow to start, depending on when the 1st falls during the week. If it falls on a Thursday, most people don't go back to work until January 5th
Feb – this month is shorter by two or three days, depending on the year
Mar/April – these months can be erratic due to Spring break and vacation schedules
May/June – these months tend to be more consistent YoY
July/Aug – demand seems to be lower in these months as it is a very traditional summer vacation time
Sept/Oct – these months tend to have the best productivity going into the end of the year
Nov – demand is lower than usual the Mon and Tues of the week, dropping off significantly Weds-Sun the week of Thanksgiving
Dec – the second half of the month shows diminishing demand as focus is on year end wrap-up. Depending on what day Christmas is that week and the week following are impacted differently
Day-of-Week Impact
Another moving factor is weekends. Most B2B websites see a significant drop in traffic over the weekends, many times as much as 50% less. Depending on the year, some months have 5 weekends and this can impact your YoY analysis. For example, November, 2014 had a holiday killing demand factor for the last 5 days of the month. In addition, there were fewer business days due to the existence of 5 weekends instead of 4.
Include Seasonality in Your Organic Traffic Analysis
B2B SEO Experts should take all of these factors into consideration when analyzing website traffic trends. There are endless reasons why organic traffic fluctuates monthly and yearly, but these potential seasonal impacts should be part of the equation.
Don't Miss a Beat!
Receive current information, expert advice, helpful tips, and more…
* Your privacy is important to us.